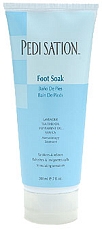 BIO92011
7 oz Tube
Retail Price
$9.00 Each.
Foot Soak

A soothing, cooling concentrated blend of natural botanicals and oils combine to cleanse, disinfect, moisturize and balance. Feet are left soothed, hydrated and properly primed for comprehensive pedicure treatment.

Sanitizes and relaxes

Refreshes & invigorates cells

Stimulating sensation

BIO93011
34 oz Jar
Retail Price
$32.00 Each.