Your source for Toe Rings, Nail Polish, Manicure and Pedicure Supplies and more!




HOME | CLEARANCE SALE | ACRYLICS | BODY SPA | BRUSHES | BUSINESS SUPPLIES | CALLUS REMOVERS | CLEANERS | CUTICLE CARE | DISINFECTANTS | FILES | GELS | JEWELRY | LOTIONS | MANI SUPPLIES | MASKS | NAIL TREATMENTS | PARAFFIN | PEDI SUPPLIES | POLISH | POLISH RACKS | QUICK DRYERS | REMOVERS | SANDALS | SCRUBS | SOAKS | SUNDRIES | TOE RINGS | TOOLS | TOP/BASE COATS | UV LAMPS
PEDI SPA SYSTEMS
EUROPEAN TOUCH SPA SYSTEMS
CATALOG | CONTACT | FOOT NOTES | SALES REP INFO | UPDATES | VENDOR LIST | WHOLESALE INFO | WORLD PARTNERS | WHOLESALE LOG IN
European Touch Pedicure Spa Systems
---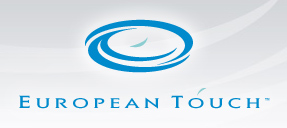 Combining one part European spa tradition and one part advanced technology, we have wellness down to a science. European Touch practices ahhhlogy with one goal in mind to make the world a healthier, more exhilarated place. Healing rituals that include therapeutic pedicures and invigorating massage release tension and restore the body's healing flow of energy. We incorporate this philosophy into each one of our products.

The Murano is a stunning departure in pedicure spa technology and design. From its beautifully crafted glass vestibule and sleek European styling to its technologically driven instrumentation and advanced cleaning standards, the new Murano Spa system surpasses every industry standard for performance and comfort.
With the three unique models in Forte, Altera, and Prima it's easier than ever to select the perfect pedicure spa for your salon. Expertly priced, each model presents a wide array of ahhh-inspiring features beautifully tailored to suit the needs of your clientele. With our Petite Portable Spa you can present a wide array of features to suit the needs of any and all clientele in a much smaller space. Become a practicing ahhhlogist and use European Touch to make them say ahhh!
---